Season's Greeting from 5 out of 4 Patterns!
Are you searching for the perfect last-minute gift for someone special? Look no further than this year's series of Gift Guides to help you get things done. These aren't just for the holidays, feel free to look back at this list all year as you prepare for any special occasion!
Without further ado here's the top 10 men's patterns of 2022!
1. Henry Sweatpants
Sweatpants may not be glamorous, but they are my wardrobe staple and the perfect gift. There is nothing like getting comfy in a good pair of sweatpants! The Henry Sweatpants are a traditional relaxed fit pants made for sweatshirt or regular fleece (you can also use other stable fabrics such as ponte or french terry). You can even make them as shorts!
Our basics line tutorial focuses on extra thorough step-by-step instructions with computer drawn graphics AND photographs for each step as well as VIDEOS to guide you in learning the more difficult steps. This pattern is absolutely perfect for a beginner to gain and practice basic skills as well for more seasoned sewists who want a quick sew for wardrobe staples.
The Henry Sweatpants feature:
PDF pattern and separate tutorial for knit fabrics with little to no stretch
XS – 6XL sizing based on our men's size chart (see last image)
Shorts or pants
Shorts option is hemmed. Pants options has hemmed, cuffed, or encased elastic finishing options.
Optional drawstring and side seam pocket options
Get your copy of the Henry Sweatpants HERE
2. Lester Top
The Lester Top is a great way to look a little fancy, but still feel super cozy. This is similar to the Leslie Top, Tunic, and Dress, but made for people in your life who prefer the men's size chart. The Lester Top is intended for thick fabrics such as fleece and sweatshirt knit. French Terry and thinner fabrics will also work, but the fit will be looser and have more drape. I PROMISE the zipper and placket are not hard! We demystify the process with videos, drawings, and photos. YOU CAN DO IT and feel awesome when it's done!
The Lester Top includes:
Men's sizes XS – 6XL (size chart is last image)
Short or long sleeves that can be hemmed or finished with cuffs.
Optional thumbhole cuffs
Three-piece hood or shawl collar
Kangaroo or welt pocket
Hem or band finish
Link to video on how to do a full tummy adjustment
Get your copy of the Lester Top HERE and make an amazing gift.
3. Jack Joggers
The Jack Joggers is a PDF sewing pattern from men's sizes XS-6XL. This is the perfect gift for anyone who loves to be comfy and fill POCKETS!
THE JACK JOGGERS PATTERN INCLUDES:
7 and 10″ Shorts, Capri, and Long cut lengths
3 leg finishes – hemmed for shorts, hemmed, cuffed or encased elastic for capris and pants
Wide, comfortable encased elastic waistband with optional drawstring
Optional oversized front patch pockets AND back zip pockets (for carrying ALL THE THINGS!)
Get you copy of the Jack Joggers HERE
4. Eric Sweatshirt Jacket
The Eric Sweatshirt Jacket is the sweatshirt for all seasons for the men in your life!  It can be made with french terry for a transitional piece, super plush for something super cozy, or lined with sherpa for something really warm. It's the perfect gift for the holiday season, at least where I live!
The Eric Sweatshirt Jacket includes:
Men's sizes XS – 6XL
Full-zip jacket
Hood or Collar
Kangaroo pocket
Short sleeve or long sleeves
Cuffs or thumbhole cuffs
Optional directions for making the inside look as nice as the outside!
Want to add a bit of fun and whimsy to your Sweatshirt Jacket? Check out the Marley Animal Hood! The Marley Hood can be swapped out for the Sweatshirt Jacket hood (all sizes).
Scared of zippers?  Trust me, we make it easy.  Between awesome technical drawings and fantastic Sewing School videos, we promise you'll be able to conquer your fear of zippers in no time.  Then we'll even make it extra fancy by showing you how to cover your seam allowance with twill tape so your finished item will look store-bought!
Get your copy of the Eric Sweatshirt Jacket HERE
5. Hayden Henley
The Henley style is timeless and versatile. Enter the Men's Hayden Henley, a pattern that has you covered for nearly any occasion. Hayden is a semi-fitted shirt pattern and is perfect for an every day shirt, underlayer or size up and wear it as an outer layer. No matter which options you choose, Hayden is a smart buy!
The placket is a clean finish inside and out and you will be proud to show off your newest creation.
The Men's Hayden Henley PDF sewing pattern includes:
Henley placket neckline finished with either:
Short and Long sleeves

Long sleeves can be finished with a hem, cuffs, or thumbhole cuffs

See the last image for the yardage and notions required
Sizes XS-6X
Get your copy of the Hayden Henley HERE
6. Ryan Raglan
The Men's Ryan Raglan is a semi-fitted shirt pattern that is filled with several sleeve options, necklines, and a hood. You'll get a ton of use out of this pattern, it is perfect for year-round wear and is sure to become a wardrobe staple.
The Men's Ryan Raglan PDF sewing pattern includes:
Multiple neckline options
Short, Three-quarter, and Long sleeves

Long sleeves can be finished with a hem, cuffs, or thumbhole cuffs

See the last image for the yardage and notions required.
Sizes XS-6X
Get your copy of the Ryan Raglan HERE
7. Desmond Pajama Set
Life goes on… make it comfy! The men's Desmond Pajama Set will quickly become your Holiday jammies, New Year jammies, Tax Day jammies, 4th of July jammies, hot August nights jammies, his favorite ones got holes somehow and you need more like yesterday jammies… They are cute, comfortable and quick! Add the optional Bum Panel for instant creativity! (Pssst – there's are Women's and Kids' versions too!)
The Men's Desmond Pajama Set PDF sewing pattern includes the following:
Short or Long Sleeve Top lengths
Optional Long Sleeve Cuffs
Shorts or Pants Lengths
Knit Waistband or Elastic Waistband
Optional Pants Cuffs
Optional Bum Panel to show off your creativeness
Get your copy of Desmond HERE
8. Halftime Hoodie
The Halftime Hoodie is the perfect answer to "What should I sew for the men in my life?" It's also the perfect answer to "What should I sew for my man that I might also like to wear?" Or, maybe you are a man who enjoys sewing and this is the perfect thing to add to your own wardrobe! Who am I kidding? I supposedly made one for my husband, but it is now folded neatly in MY closet. 🙂
Options for the Halftime Hoodie include:
Crewneck
Hood
2 size options for Kangaroo Pocket (regular and oversized)
Short and Tall cuffs (that can include thumbholes)
sizes XXS-5XL
The Halftime Hoodie is a loose-fitting sweatshirt pattern intended for medium to heavy weight knit fabrics such as sweatshirt fleece.  Fleece and thicker French Terry will work as well.  If using French Terry, please consider the weight and drape of the fabric.  If it is thin, the garment will be much looser than intended by the pattern.  Fabric with at least 10% stretch is recommended.  This is a loose-fit pattern based mainly on chest size.  The pattern is available in men's sizes XXS-5XL.  The last picture shows the size chart and fabric requirements. Don't forget to check out the Halftime Hoodie Bundle.
Get your copy of the Men's Half-time Hoodie HERE
9. Woven Boxer Shorts
Are you or your loved one picky about boxer shorts?  These boxer shorts are designed to have extra room in the back.  The back has 3 panels, so there is no annoying center seam. Gift them to someone special or keep them for yourself, like I do.
These boxer shorts include:
sizes Small (28-30″ waist) to 5XL (56-58″ waist)
3 panel back
optional button hole for fly
flat-felled seams
This pattern can be made in quilting cotton or flannel as well as any lightweight woven fabric.  Sizes include S – 5XL.  Notions, fabric requirements, and size chart are included in one of the pictures.
Get your copy of the Woven Boxer Shorts HERE
10. Clark Woven Pajamas
"We're going to have the hap-hap-happiest Christmas!"
The classic woven pajamas have arrived! The Clark Woven Pajamas feature a pajama top with buttons and collar and pants with a flat front and elastic back and optional inset pockets.
The Clark Woven Pajamas feature:
PDF pattern and separate tutorial for woven fabrics (zero stretch)
XS – 6XL sizing based on our men's size chart (see last image)
Short sleeves or long sleeves
Directions on how to add piping
Optional cuffs for sleeves
Cut lines for shorts as well as pants
Inset pockets for the front of the pants
Flat front with elastic back
Get your copy of the Clark Woven Pajamas HERE
BONUS FREEBIE
Have you seen the NEW AND IMPROVED Haymitch Pajama Pants?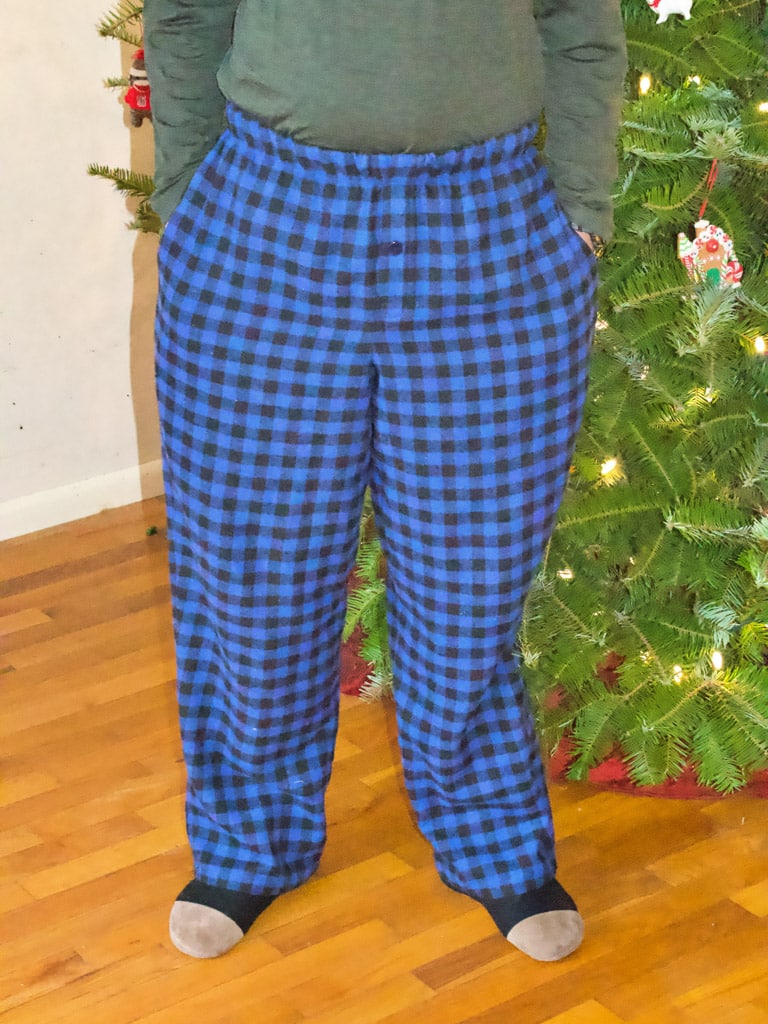 Trust me, I'm trying to help you with your gift this Christmas! It's time for the Haymitch Pajama Pants! These pajama pants are quick and easy and sure to please.
The Haymitch Pajama Pants include:
Sizes XS-6XL (see last image for size chart)
Mid-rise
8″, 9″, Capri, and Pants
Fold over elastic waistband
On-seam pockets
Optional working fly
Separate download for a professional tutorial featuring drawings and photos.
Get your copy of the FREE Haymitch Pajama Pants HERE
There you have it, folks! All the men's sized patterns you'll ever need for the perfect gift giving season. The best thing about these patterns is they are perfect for anyone who loves them. I've been known steal nearly all my husbands hoodies just because they fit is great and they're super cozy. Enjoy!
Need some FUN DIY Freebies? Check out the FREEBIE TUTORIALS and the FREEBIE PATTERNS!
As always, we're here to help if you need it! Join us HERE and on Facebook, Instagram, Twitter, Youtube, and Pinterest. We're everywhere you are.
READER INTERACTIONS
Reader Interactions