I've been looking forward to having a skort pattern for a loooonnnnggggg time. I've loved skorts since I started chasing my first child around the house over 8 years ago. As my body has changed, some of my favorite skorts were stored in my UFO (unfinished objects) pile in my sewing room. I wanted to take them in or adjust them in some way to fit my new body. Of course, that never happened. BUT, now I can make as many as I'd like! 🙂
The Adventure Skort features a knit wrap skirt with a regular rise and a low-rise, which is perfect for pregnant bellies. (Seeing happy pregnant bellies does my heart a world of good!)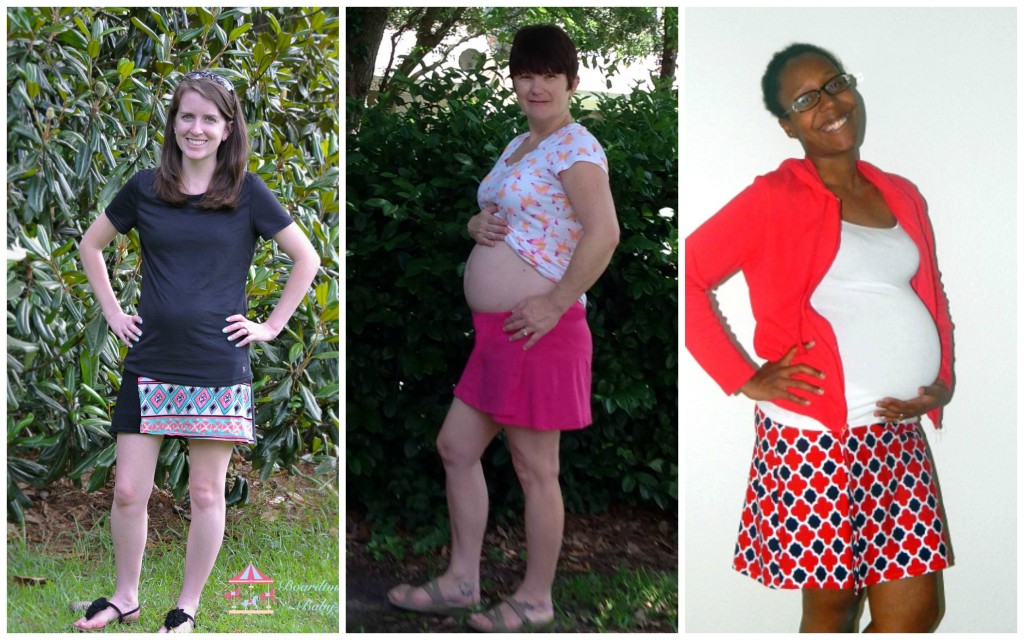 The skirt also has two length options. I'm tall and see the short length as perfect for running, lifting weights, and swimming. However, a few of my testers were petite and the short length was their go-to length for everyday wear.
The longer option is my go-to option for chasing the kids around during the day. I LOVE that I can look classy and still bend over to pick up the umpteenth toy that has been thrown or food that has been dropped. 😉 The shorts underneath the skirt are made to be tight-fitting (or compression) style shorts. They have 4 inseam lengths to choose from: 1.25″, 3″, 5″, and 7 inches.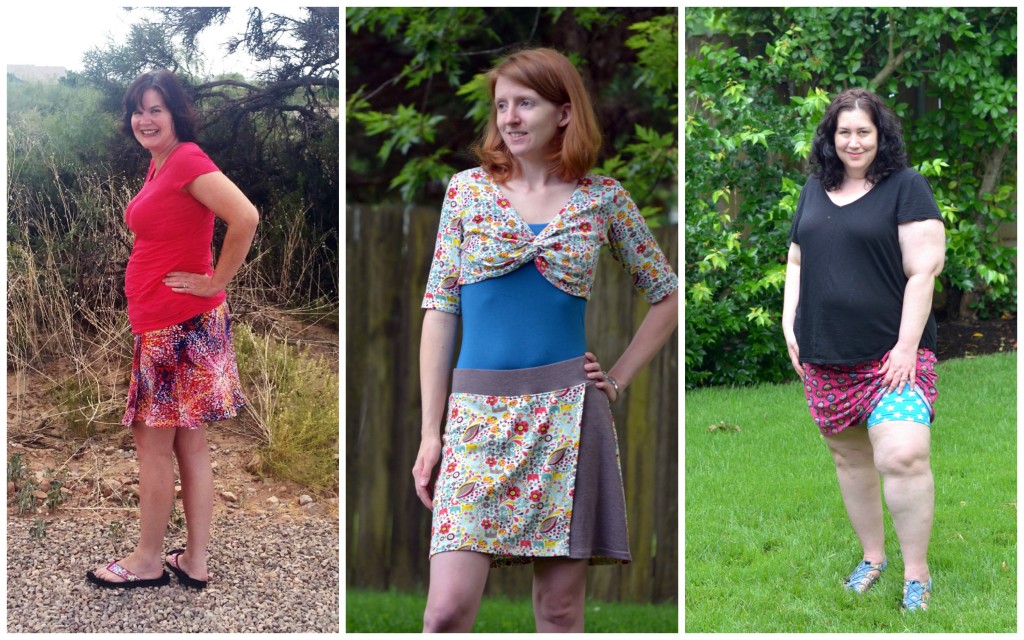 This is the perfect skort for moms. You can make a swim skort. You can carpool. You can go hiking. You can workout. You can just live in this skort. I've made one out of polyester/Lycra knit from Hancock's. I typically buy my fabric online because I don't really enjoy shopping and going to the fabric store with five kids in tow doesn't sound like my kind of fun; but I've been really impressed with this poly/Lycra. They only have it in two colorways, black and grey, but the weight is nice and it is perfect for an athletic skort. Of course, I chose black and you can't even tell it's a wrap skort in these pictures!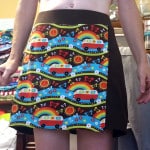 I made another skort out of brown cotton/Lycra from Purple Seamstress and the front wrap portion out of an expensive Euro knit. I love that I can use a cute knit for just one panel and a cheaper solid for the rest.
As you saw in Let's Go Swimming, Andrea made hers into a cute swim skort, which I'm finding quite a few women really like. We're having a sewalong right now to modify the Agility into a tankini. A few women have made the skort to go along with it. You can come join us here if you're interested.
The Adventure Skort is on sale through Tuesday, the 23rd. You can buy it here. As always, we'd love for you to be a part of our Facebook group. Come join us here and show us what you've created.
What kind of adventure could you see yourself having in this skort?
Reader Interactions