It's been a great week of AWESOME makes with our Summer's Coming Blog Tour and Sale!
HOLD THE PHONE!!! The SALE isn't over yet!  You have another 24 hours to take advantage of the site-wide SALE so you better get movin'!
Have you seen all the awesome makes that our amazing group of bloggers has created for this week?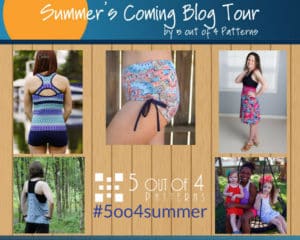 Here are the links the EVERY Pattern featured in the Summer's Coming Blog Tour:
Women's Agility Tank and Dress
Girls' Riptide Reversible Shorties
Knot Your Average Shirt and Dress
Women's Riptide Reversible Shorts
Haven't read all the entries to the Blog Tour?  Here's the schedule:
5 out of 4 Patterns Summer's Coming Blog Tour Schedule
May 7- The Sassy Seamripper | Just Delphine
May 8- Sewing Novice | Octaves of Color
May 9- Manning the Machine | Sweet Mama Sharon
May 10- Sew Sew Ilse | That's Sew Lily
May 11- Wonderfully Handmade | The Sassy Seamripper
If you need any more inspiration click on the images below for a roundup of Women's, Men's and Girls' Swimwear options from 5 out of 4 Patterns!  We LOVE summertime and who doesn't love an amazing swimsuit!
In addition, I wanted to give you a little sneak peek of what's in testing RIGHT NOW!
The Women's and Girls' Romper Test is in full swing and it's pretty much one of the cutest things EVER!  Be on the lookout for this new Pattern and get ready to jump on it as soon as it drops! These two patterns are perfect for summer!  The girls' romper is sizes 2-18 and the women's has XXS-5XL!  This romper can be made as a romper or separate for an additional look.  It has a standard tank, flounce, and strappy back options.  It really is versatile and breathes summer fun!  I can't wait to wear mine!
As always, we're here to help if you need it!  Join us HERE and on Facebook, Instagram, Twitter, Youtube, and Pinterest.  We're everywhere you are.
Reader Interactions