What is a "treasure pocket?" A giant pocket to hold all your treasures, of course! Ha! It is basically a big pouch, like a kangaroo pouch, that my kids use to carry all their stuff around with them. They love carrying their treasures everywhere and a treasure pocket means that I won't eventually be carrying their stuff for them! I decided to hack a pattern to add a treasure pocket to a shirt. I used the Kids' Halftime Hoodie for this pattern hack. This is a truly an easy hack and my kids are thrilled with the results!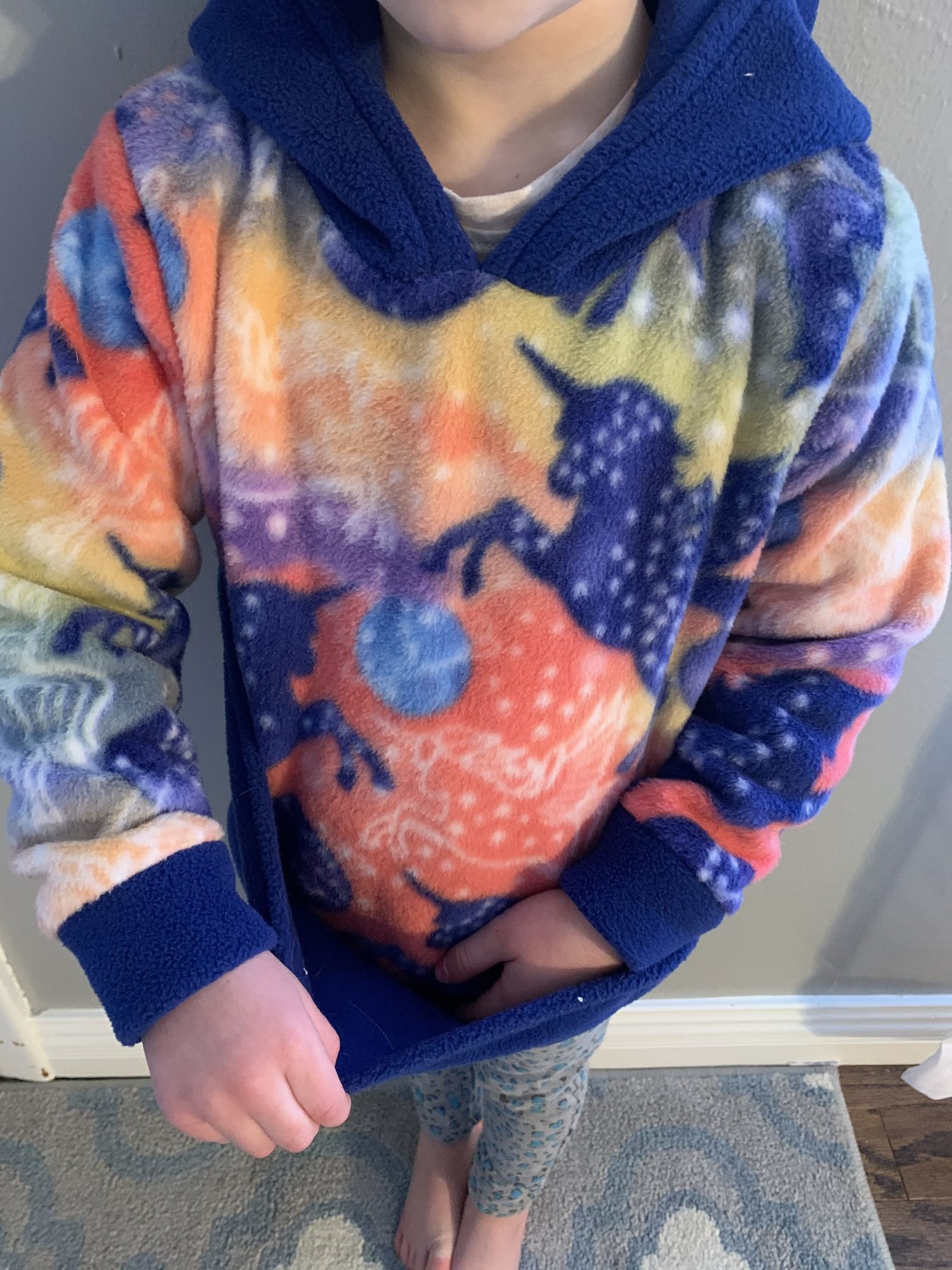 Materials
You only need a big scrap of fabric for the pocket. I would recommend a fabric with some structure to be able to hold up well once things are in the pocket.

Make sure that the fabric that you choose still follows the stretch recommendations in your pattern!
I used fleece for my pocket since I was using fleece for the whole sweatshirt.

You will need a shirt or sweatshirt pattern

I used the Kids' Halftime hoodie pattern. You can find it here!

You will need paper, tape, scissors, and a ruler to create your pocket pattern piece.
Time to make your treasure pocket pattern piece
Have your bodice pattern pieces taped and ready to go
Get some scrap paper and tape two pieces together so that it is at least as wide as your bodice pattern

My bodice piece is cut on the fold, so I placed my front and back bodice pieces side by side to act like the front bodice piece unfolded. That way I could see how wide my bodice actually will be when it is unfolded.
Fold your scrap paper (that you taped together) in half
Place the bodice piece on top of the scrap paper, matching up the fold of the scrap with the fold line of the bodice piece
Trim off any excess scrap paper so that your scrap is exactly the same width as your pattern piece
Determine how high you want your pocket to be
I decided that I wanted my pocket to be about 3 inches below the armscye. This is entirely up to your preference. I just decided where I wanted the pocket to be and measured down from my kiddo's armpit.
Measure your bodice pattern from where you want the pocket to be down to the hem. Add a seam allowance for a hem. This is how long to cut your pattern piece

For me, the pocket piece was 6.5 inches long
Decide on the shape of your pocket
You can choose a straight rectangle, an angle, curved angle, whatever shape you want!
I chose a curved angle because I thought it would give some fun color blocking dimension.
Simply draw the shape that you want on your pocket pattern piece

If you chose a rectangle, you don't have to do anything since your pocket pattern piece is already a rectangle!
Time to cut fabric
Use your pocket pattern piece and cut 1 pocket
Follow your pattern's directions to cut the rest of your pattern pieces
Hem your pocket piece
Fold the top edge of your pocket piece to the wrong side, use whatever seam allowance you chose

I used about a 5/8 inch seam allowance

Sew using a stretch stitch, zig zag, twin needle, or cover stitch machine
Baste pocket to bodice
Place your pocket on top of your bodice front. The wrong side of the pocket will be on the right side of the bodice
Baste both sides and the bottom to the bodice
Follow your pattern's directions to finish your shirt
Follow your pattern's instructions to construct the shirt
Your pocket will get sewn onto the front when you construct your side seams and will be hemmed at the bottom when you finish your shirt
Just like that, you hacked a pattern to add a treasure pocket to a shirt! Woo hoo!
Want more FUN DIY Freebies? Check out the FREEBIE TUTORIALS and the FREEBIE PATTERNS!
As always, we're here to help if you need it! Join us HERE and on Facebook, Instagram, Twitter, Youtube, and Pinterest. We're everywhere you are.
Reader Interactions