Hi all,
Tasha from 5 out of 4 here, and today we are going to briefly talk about the Ninja leggings and the gusset that is included in the pattern. I love the Ninja leggings pattern and they are my go-to leggings when it comes to working out, running errands, or lounging around the house. I have at least 10 pairs and all but 1 of them have been made using the gusset. Why? In my opinion they make the fit that much more comfortable. But let's back up for a minute.
Quite often in the 5 out of 4 Facebook group, we see the question asked "Do I have to use the gusset?" When I ask 'Why not do it?' the most common replies are either "I'm too scared to do it" or "I'm afraid it will add unnecessary fabric".
Fear not because there is a video tutorial on how to install the gusset when sewing a pair of Ninja leggings. The video walks you through the correct way to align the gusset piece before sewing as well as reminders to insure you are sewing the correct pattern pieces together. I highly recommend viewing the video before you make your first (or next) pair of ninja leggings. The helpful video can be found here: Ninja Gusset Video.
Now that we have addressed FEAR let's talk about FIT. The ninja leggings pattern was designed to have the gusset, but like any sewing pattern you may find it necessary to make some alterations to best suit you and your body. Adding the gusset should NOT result in the appearance of excess fabric in the crotch area. If this is happening you may need to make a fit alteration such as a flat pubis adjustment. Have no idea what that is? Check out the pants fitting guide blog post to see if any of these alterations might be helpful to you: Pants Fitting Guide blog post
Remember when I mentioned all but 1 pair of my Ninja leggings have a gusset? Take a look at these two photos and see if you can tell which pair has the gusset and which pair does not.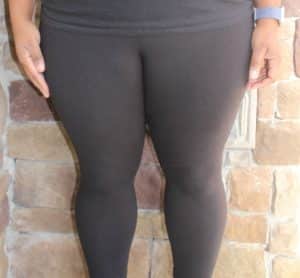 These Ninja leggings were both made with a similar weight fabric, are mid-rise, and the photos were taken about 5 minutes a part. Have you figured it out yet?
Answer: The pair on the left does NOT have a gusset installed but the pair on the right DOES have a gusset.
The side by side photos are meant to show you that adding a gusset does not automatically result in excess fabric in the crotch or make them baggy. Only the wearer should know that their awesome ninja leggings have the added gusset. The minor adjustments I made to my pattern pieces before cutting and sewing were a flat seat adjustment and shortening the inseam length, but those are alterations I make anytime I am sewing a pair or pants or leggings. Otherwise the only difference in these 2 pairs is the absence of the diamond shaped gusset in 1 pair.
I stated earlier that in my opinion the gusset makes the fit that much comfortable. I could also argue that I feel more comfortable wearing leggings with a gusset. The crotch seam is probably the most stressed seam on a pair of leggings because of the pulling that happens when walking, squatting, bending, etc. The addition of the gusset provides 'relief' to that high stress area and allows freedom of movement without worry of popping a seam.
If you are making a pair of ninja leggings for fitness/exercise, I HIGHLY recommend that you add the gusset. The last thing you want to happen while doing lunges is to have your pants split open. I still recommend sewing the gusset even if your Ninja leggings are for casual wear. It only adds a few minutes to your sewing time and I think you will be pleased with the fit.
Be sure to join us in the Facebook group and show off your makes. And if you don't have the Ninja leggings pattern yet (gasp), you can find it here: https://5outof4.com/product/ninja-pants/
There is a special promo code in the pinned post of the Facebook group that makes it FREE.
Reader Interactions