When Rachelle first told me about designing a grandpa cardigan for all sizes I, of course, was very excited. I LOVE cardigans. In fact, I wear a cardigan as much as I wear slippers…. EVERY DAY… year round. Cardigans are high on my list of close staples and I love them all. There's some comforting about my favorite cardigan so when I get to add more cardigans to my favorite cardigan list I'm running to my sewing studio to get started.
I'm sure you're saying, "a cardigan is a cardigan is a cardigan." Well, that's not true. Each cardigan pattern has it's own style and options. Today, I'll be talking about the Quinn Family Cardigans.
Rachelle wanted different neckline options, waist finishing options and elbow patches. We've got all this in one pattern with Quinn in all the sizes.
Here's what Quinn Has to offer:
Let's chat about difficulty: Quinn is perfect for the confident beginner as the basic option are super super easy. Start adding options it only and it only gets slightly more challenging. The great thing is that if you're a beginner and have any questions you can head on over to the Facebook Group and ask all the questions.
Fabric: Quinn is designed for knit fabric with at least 25% stretch. That's pretty amazing! So, you can use anything from DBP to a heavy sweater as long as it has at least 25% stretch. You'll find more details about this in the tutorial. Remember that the look of a garment changes based on the fabric you choose.
What about printing formats? Well, just like all our patterns it comes in 8.5×11, A4, A0 (All of our patterns are layered), and Projector file options.
All of our patterns contain technical drawings and photos as well as links to video tutorials where appropriate.
Need more details?
Every day is a good day for a cardigan! The Quinn Cardigan is a relaxed fit 'grandpa-style' cardigan based on our women's size chart. Quinn can be hemmed or finished with a hem band, and has three different neckline finishes available: Collar, shawl collar band, or regular band. Short and long sleeves are available, finished with either a hem or a cuff. A FBA bodice is included and optional front patch pockets. You can even add elbow patches (ovals or hearts)!
The Quinn Cardigan features:
PDF pattern and separate tutorial for knit fabrics with 25% horizontal stretch
Women's XXS – 5XL, Men's XS – 6XL, and Kids' 0-3m – 14
FBA (full bust adjustment) bodice included in women's pattern
3 Necklines: Collar, shawl collar band, or regular band
Bodice has hemmed or banded options
Short or long sleeves, hemmed or cuffed
Optional front patch pockets
Optional elbow patches: oval or hearts
One of the amazing things about 5oo4 is our inclusion of BUNDLES. You can buy the patterns individually…. BUT…. we have discounted bundles options as well.
Here are all the purchase options Rachelle offers for the Quinn Cardigan: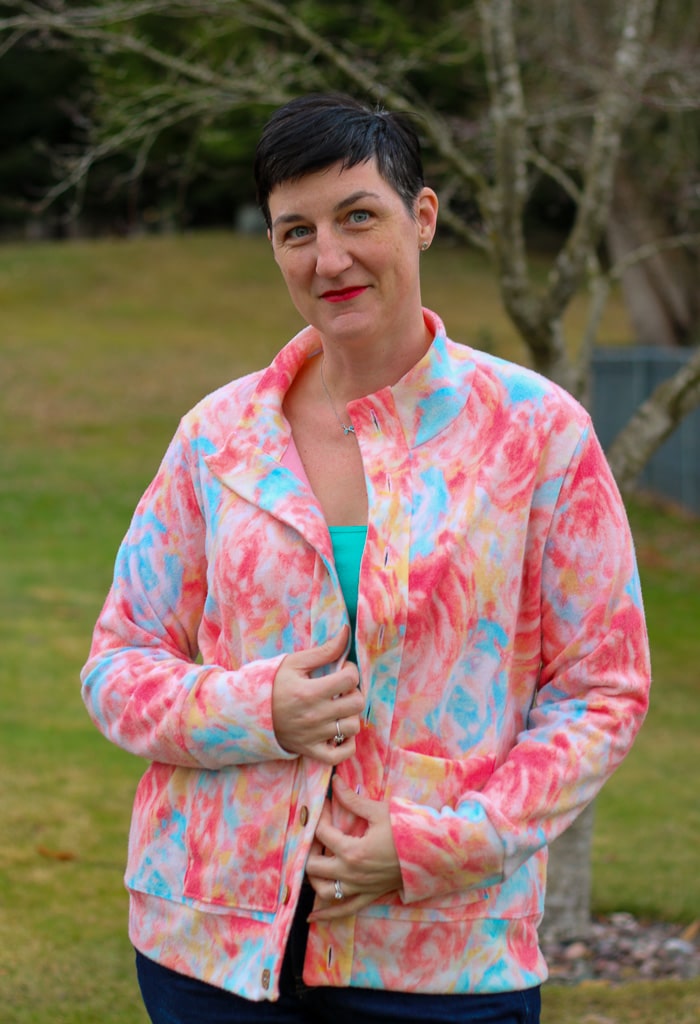 As always, we're here to help if you need it!  Join us HERE and on Facebook, Instagram, Twitter, Youtube, and Pinterest.  We're everywhere you are.
Reader Interactions