The elastic strap that goes around my yoga mat was starting to fray. I decided that I should replace it with a pretty bag. This is a tutorial for how I made my yoga mat bag. To be fair, I don't really do yoga, so mine is more of an exercise mat than a yoga mat. No matter what you use the mat for, this bag is super cute! It is completely customizable because you'll use the measurements for your own mat! The bag has a drawstring and a strap so it's very useful. Let's get started!
Materials
Fabric-the amount will depend on how big your yoga or exercise mat is. Mine took about 3/4 of a yard.

I used a home décor fabric because it has a little more structure than a thinner fabric would. I work out in my living room and leave my mat in a corner, so my bag matches the pillows that I made for our couch. It makes me happy that everything matches 🙂

Drawstring-I used about 30 inches, you may need a bit more if your mat is bigger than mine
Cord stop
Grommets and Grommet Tool (instead of grommets, you can use buttonholes if you prefer!)
Measuring
Now you are going to measure your yoga mat so that you make a yoga mat bag that will fit your specific mat
Measure the length and add about 4 inches (for me, my mat was 23 inches+4=27). If you want your bag to cinch completely closed, add a couple more inches. Mine doesn't close completely, which I don't mind, so it's a personal preference.
Then, measure the circumference and add about 3 inches (mine was 17 inches+3=20)
Finally, measure the diameter and add about 1.5 inches (mine was 5.5+1.5=7)

You are adding to your measurements for seam allowances, casings, and to have extra room for mat to fit comfortably

For the strap, you likely want it to be about as long as your bag and about 5 inches wide (so mine was 5 inches by 27 inches). You can make it longer or shorter if you prefer
Cutting Fabric
Cut your fabric to the dimensions that you just calculated
You need 1 piece for the bag (length by circumference, mine was 27 inches by 20 inches)
1 circle piece for the bottom of the bag (this is the diameter measurement, mine was 7 inches). I used a plastic lid that was about 7 inches in diameter and traced it to get a perfect circle.
1 piece for the strap (mine was 5 inches by 27 inches)
You can also cut your drawstring now. I cut mine 30 inches long so that it went around my 20 inch circumference measurement with some extra to feed through the cord stop and pull easily
Time to start sewing your yoga mat bag!
Take your bag piece and fold it hot dog style so that the long sides are together
Pin or clip long sides together and sew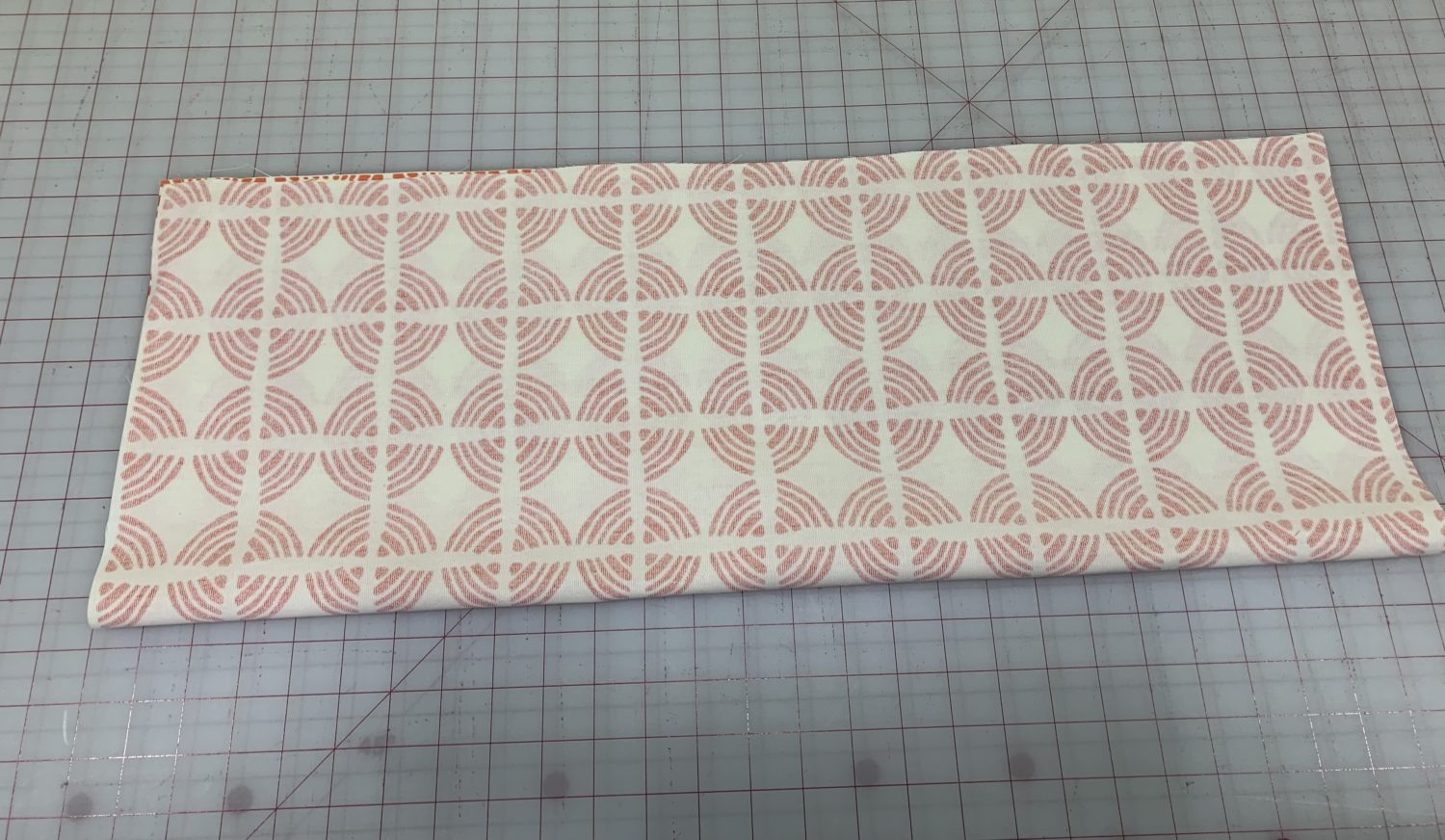 After sewing, finish your seam allowance so that it doesn't fray. I used my serger.
Construct the casing for the drawstring
At the top of your bag, fold the raw edge toward the wrong side of the fabric by 1/2 inch and press well
Next, fold it another 1/2 inch and press well again. This will conceal all the raw edges inside and create your casing.
Before sewing this closed, we are going to add the grommets or buttonholes
Add grommets or buttonholes
On the inside fold of the casing, so it won't be seen from the outside of the bag, add grommets. You can also use small buttonholes if you prefer.
I used two grommets because mine are small and both pieces of drawstring do not fit in one grommet. If you have bigger grommets or want to use a bigger buttonhole, you'll only need one.
I used a small piece of fabric that I cut from the selvedge of my fabric to help support the grommets. Interfacing can also be used.
Simply unfold the second fold that you made for your casing and apply the stabilizer. If it is fusible interfacing, iron it on, if it is just a piece of fabric or twill tape, wonder tape or pin in place
Use your grommet tool and apply your grommets. Or use your sewing machine to add buttonholes.
Now, fold the casing back and sew it along the edge. Start right after the grommets or buttonholes and stop sewing before you get the grommets/buttonholes on the other side. I found it easier to leave this gap so that I could thread my drawstring through more easily.
Thread the drawstring through the casing
Place a safety pin on the end of the drawstring. Put the pin and drawstring into the gap that you left under the grommets.
Feed the safety pin through the casing all around the top of your yoga mat bag.
Once you reach the other side, both sides of your drawstring will be sticking out of the casing.
Now, feed each end of the drawstring through the grommets.
Then, sew the gap closed.
Feed the drawstring ends through the cord stop.
Tie a knot at each end to prevent it from slipping back through the cord stop.
Strap
Take your strap piece and fold it in half longways with wrong sides together. Press well.
Next, unfold it.
Fold each side into the middle to meet the crease that you just ironed. Press well.
Now, fold it back in half along the fold that you ironed first. Press well.
Unfold it temporarily and fold the short, raw edges in toward the wrong side. Press well. This will hide all your raw edges.
Refold it and press again, if needed.
Sew along both long sides and both short sides to complete your strap. All raw edges should be concealed.
Decide where you want your strap to be sewn. I did a couple inches down from the casing and a couple of inches up from the bottom. I sewed my strap along the seam of the bag.
Put the strap on the right side of the bag and pin it where you want it.
Sew it to the bag. I sewed a small square and then I sewed diagonal lines through the square to form an X inside.
Last step! Add the bottom to the bag
Take your circle piece and mark the quarter points.
Turn the bag inside out. Mark the quarter points on the bottom of the bag.
Pin the circle to the bottom of the bag, matching the quarter points. The circle and bag will be right sides together.
Sew around the bottom. You'll have to ease the fabric together, go slow and that will help.
Finish your seam allowance.
Turn the bag right sides out and you're done!!
You've made your very own yoga mat bag! Yay!
Want more FUN DIY Freebies? Check out the FREEBIE TUTORIALS and the FREEBIE PATTERNS!
As always, we're here to help if you need it! Join us HERE and on Facebook, Instagram, Twitter, Youtube, and Pinterest. We're everywhere you are.
Reader Interactions