I don't know about you, but I can't stand when my umbrella drips all over me or all over my car. It drives me bonkers! Almost all of my umbrellas had little covers at one point, but I have lost them all. Then, I realized that I could make new umbrella covers! Even better, I can make ones that won't fall off! Today, I'm going to show you how to make your own umbrella or snowbrush cover, too! You can use measurements to make this umbrella cover so that it will be guaranteed to fit your umbrella! This will even work for snowbrushes! Ready? Let's get started!
Materials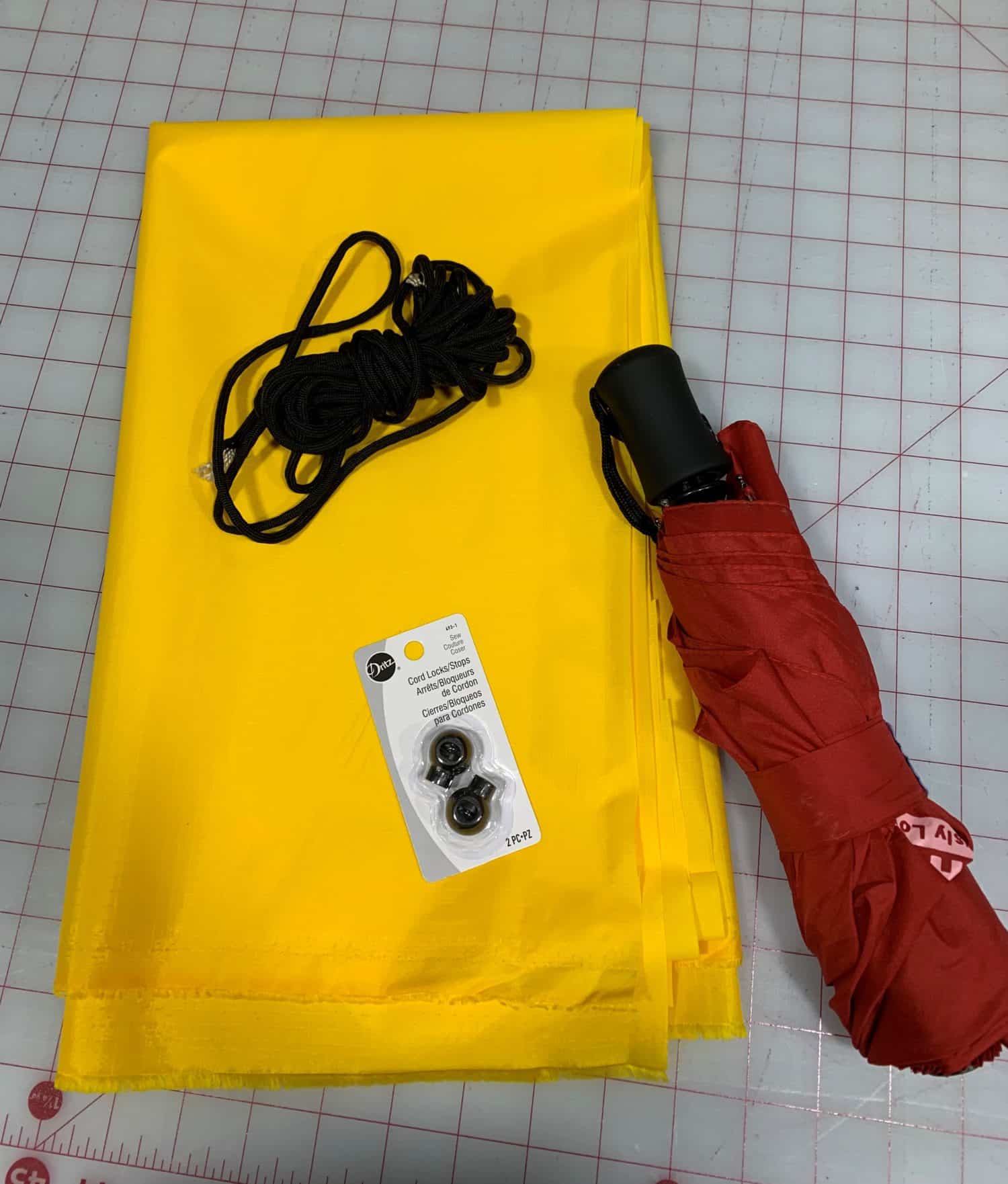 You'll want a waterproof fabric so that the water doesn't soak through. I used Rip Stop fabric that I found at Joann Fabrics.
Cord Stops
Rope or drawstring
Clips-you don't want to put holes in your fabric with pins!
Measuring tool
A sharp needle to pierce through the fabric
Your umbrella or snowbrush that you want to cover
Measuring
Measure the length of your umbrella or snowbrush and the width. You'll need to do a bit of math to ensure you get the size cover that you want. I promise that it's not bad! Let's start with length, my umbrella is 11.5 inches. You might want your finished measurements to be a bit longer than the actual umbrella so that it fits fully inside your cover. So, we'll say a final measurement of 12 inches long. You need to add 1 inch to that for the top casing. So that is 13 inches. I cut my fabric on the fold so that I didn't need a seam at the bottom of the cover. 13×2=26, so the length of my fabric piece needs to be 26 inches.
Next, the width. My umbrella is 3 inches wide. Since it is not flat, I need to have plenty of extra fabric on the sides to that it fits inside the cover (Rip Stop doesn't stretch so you need the ease of extra fabric!). I added about 2 inches to my side measurement and then added an additional 1 inch for seam allowances (1/2 inch on each side). So, that is 3 inches+2inches of ease+1 inch seam allowance=6 inches wide. My final measurements are 26 inches by 6 inches. You only need to cut one piece of fabric since we are folding the bottom and not using a seam at the bottom. My pictures are all of an umbrella, but if you're doing a snowbrush cover, just make sure you measure the widest part of the snowbrush!
Time to sew
Fold your fabric in half so that the short ends are matched. Fabric should be right sides together.
Clip long sides
Sew the long sides
Finish your seam allowances so that the fabric doesn't fray. I used a serger.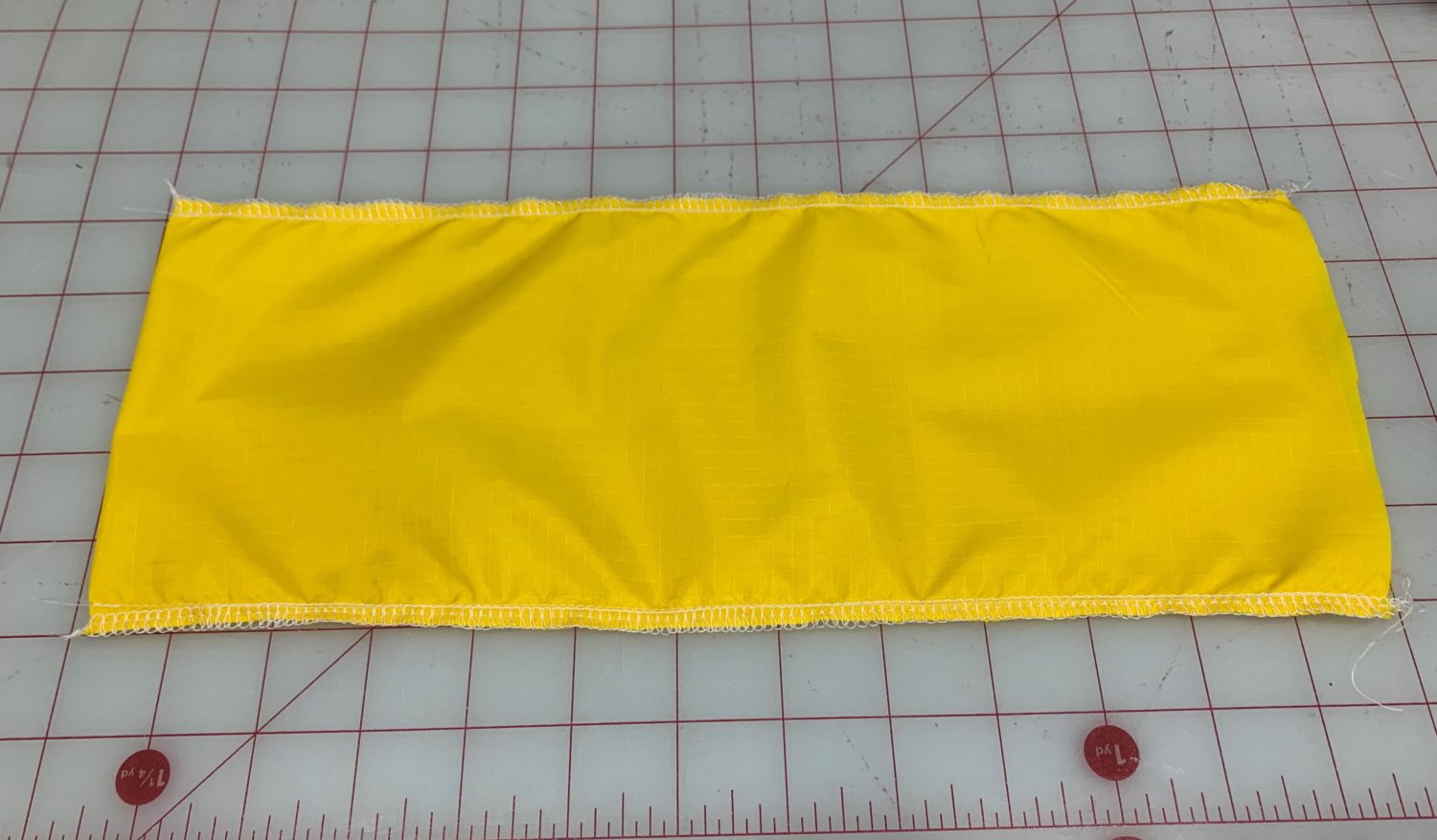 Button Hole
You'll need to put a small button hole before you make your top casing for the drawstring. Measure down from the top of the cover about 1/2 inch. This is where you want your button hole to be. You need to be able to fold the top down 1/4 inch and then fold another 3/4 inch to make your casing and you want your button hold in the middle of that casing.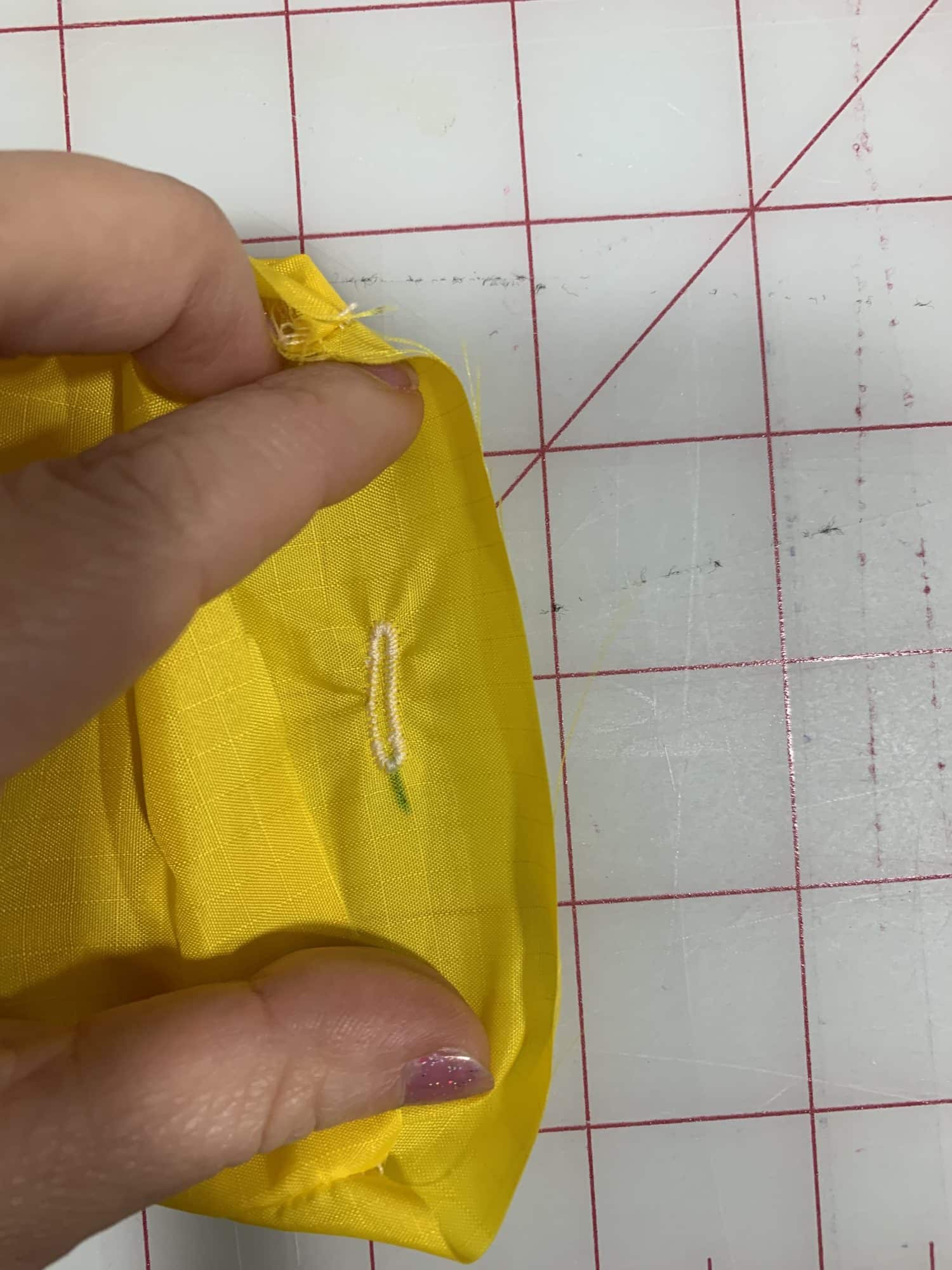 My buttonhole pulled a little wonky. It needs some interfacing, but I couldn't find it! That's a good sign that I need to clean my sewing room! You might want to add a bit of interfacing so your button hole is a little nicer than mine! You could also use a grommet if you prefer. This fabric is quite thin and my grommets weren't holding well. Again, interfacing would probably help that!
Casing
It's time to make your casing for the drawstring.
Fold the top down 1/4 inch
Fold another 3/4 inch
Top stitch around the entire top to secure your casing
Drawstring
I used paracord for my drawstring. You can use any rope, clothesline, ribbon, or even make your own!
Put a safety pin or bodkin on the end of your drawstring
Insert the drawstring into your buttonhole or grommet
Feed the drawstring all the way around until it comes back out on the other side
Cut to your desired length
Almost done!
Now, let's add the cord stop. Thread the ends of your drawstring into the holes on the cord stop. Tie the ends in a knot so that they don't slip back out of the cord stop later.
Ta-Da! You did it! You have a beautiful, useful umbrella cover!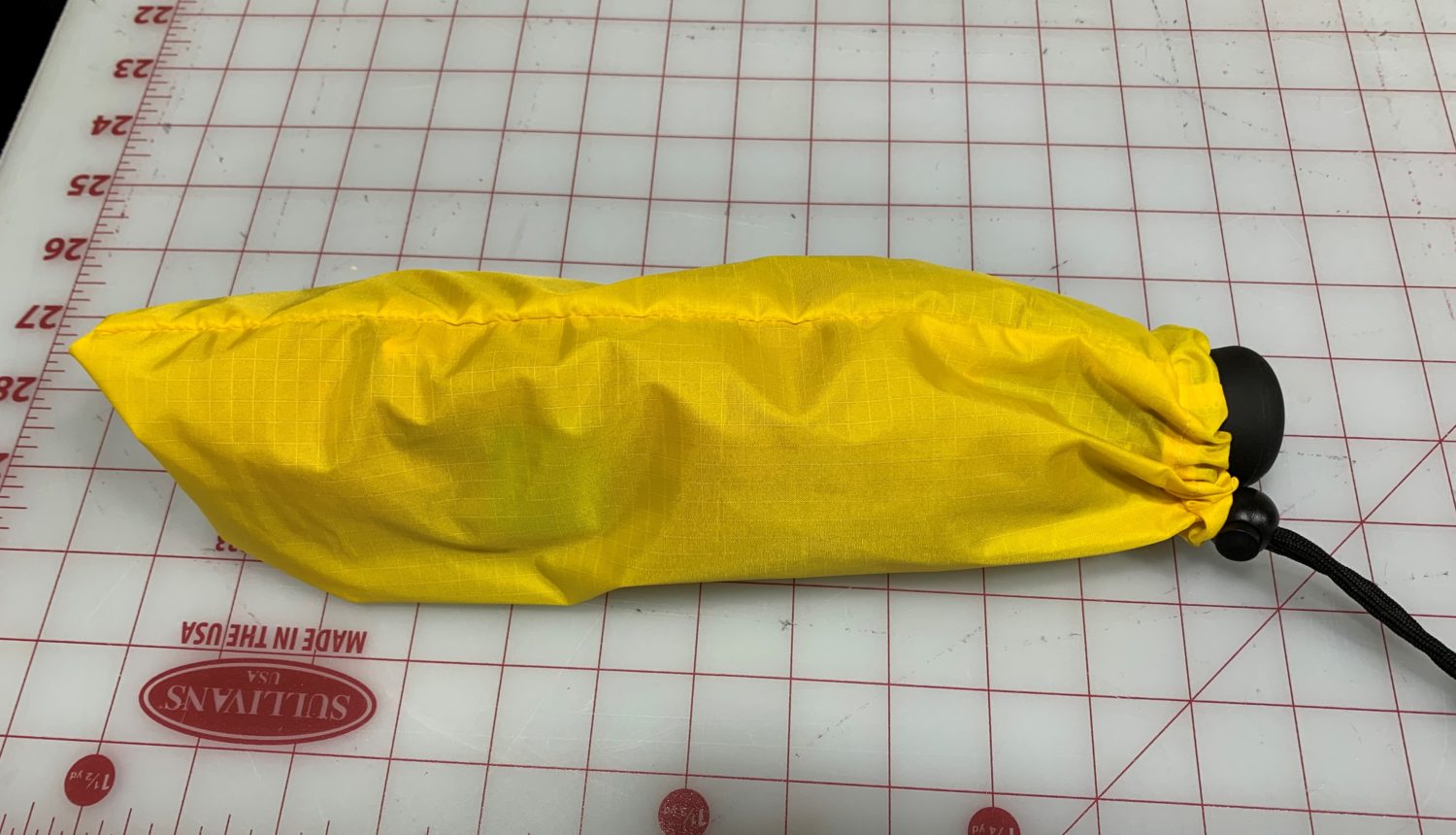 Want more FUN DIY Freebies? Check out the FREEBIE TUTORIALS and the FREEBIE PATTERNS!
As always, we're here to help if you need it! Join us HERE and on Facebook, Instagram, Twitter, Youtube, and Pinterest. We're everywhere you are.
Reader Interactions