A couple of weeks ago, I showed you how I make my pet handkerchiefs. This week, I'm making another option for a fun, festive thing that you can sew for your pets-a collar cover! I was looking at my dog's collar and I realized that it needs a little something to make it extra special. I decided to make a little cover for it. This is a super easy and quick project! So quick that you can make one for every holiday or season or just when you get bored of the old one! Not to mention, it is a great scrap buster because it requires so little fabric! I used some leftover Christmas flannel for this one, but any type of fabric will work! So, grab your pet's collar, a bit of fabric, and a measuring tool and let's make a collar cover!
Measuring
First, you will need to measure the collar and determine how long and wide you want the cover. I decided that I wanted my finished cover to be 10.5 long and 1.5 inches wide. Your cover will likely be a little different depending on the size of your pet's collar.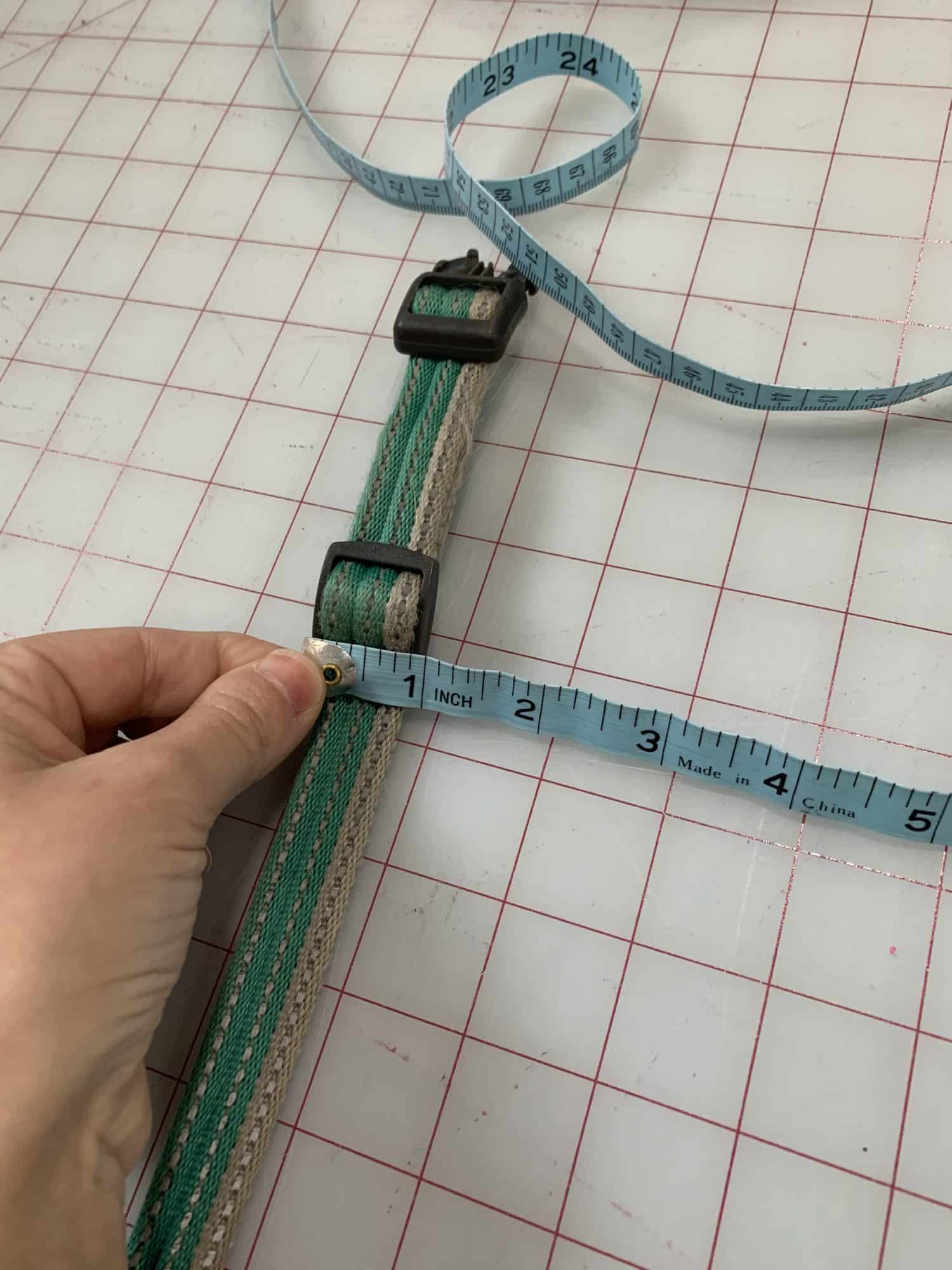 Make sure that you measure the width at the widest part of the collar, otherwise it may not fit! For me, that was the buckle. The buckle is about an inch wide. I added 1/4 of an inch to both sides of that just to give me enough ease to get the collar through. Then, you have add your seam allowance to all sides. I chose 1/2 an inch just for easier math! The final measurements of the pieces that I cut ended up being 11.5 inches long by 2.5 inches wide. Make sense? I promise that measuring is the most complicated part of this!
Cut and Sew
Now that you know exactly how big to make your collar cover, it is time to cut your pieces. You will need two pieces of fabric cut to the dimensions that you determined for your pet's collar.
Now, we are going to hem the short edges. Typically, I wouldn't hem first, but these pieces are really small and hemming in the round would be nearly impossible. I finished the short edges with my serger and folded them 1/2 an inch to the wrong side and sewed. Hem all 4 short edges.
Optional personalization
I thought that it would be fun to put my dog's name on his new collar cover. I don't have an embroidery machine, but that would be perfect for this! My sewing machine does sew characters, so I used that. They are a bit small, but it works for this project. If you have a cutting machine, that would work, too!
Once you have completed your personalization, or have just skipped it, you're ready to assemble the cover. Put the two pieces right sides together and sew along the long sides. Make sure to leave the small sides (the ones you have already hemmed) open. Use your preferred method of finishing the edges so that they don't fray. I used my serger. If you are using a knit, finishing the edges isn't as crucial.
Last step and you're done already! Turn your collar cover right sides out using the small, hemmed edges.
Get your collar and slide the cover over top of the collar.
All done!
Now try it on and see how adorable your pet looks with their updated collar!
Want more FUN DIY Freebies? Check out the FREEBIE TUTORIALS and the FREEBIE PATTERNS!
As always, we're here to help if you need it!  Join us HERE and on Facebook, Instagram, Twitter, Youtube, and Pinterest.  We're everywhere you are.
Reader Interactions