We just finished up the Agility Sew a Long over in the 5oo4 Facebook group and we had a great time! We had lots of participation and it was a great example of how awesome and supportive the group is. From quickly chiming in to answer questions about fabric selection to needle type to offering support when adding bindings seems to be giving trouble, it was such a positive atmosphere. It was so great seeing the progress that was made and I definitely loved seeing all the different fabrics and combinations that participants came up with.
Congratulations to Jessica B., Amanda, Diane, Mist, and Jessica W. who won prizes.
Here are some photos of Agility tanks that were made during the Sew a Long.
Amanda made a t-back version using the higher arm cut line for the overlay. Check out the sparkle fabric and how it really shines when paired with the solid overlay. And do you see the sparkle waistband? It really brings it all together. Great job!
McKinsey also made her version using the higher arm cut line for the overlay but she went with the strappy back version on her Agility. Although the strappy back takes a little more time (and patience) the finished look is gorgeous. If you look closely you can see pops of pink and yellow in her fabric which is so pretty.
Jessica used a print fabric for her overlay fabric and went with a solid fabric for the bra. Here she has her Agility paired with jeans and the result is a casual and pulled together look. She looks great! (The Agility is popular for swimwear but it's also a great option for everyday attire.)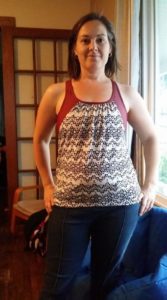 Mist also went with a print fabric for her overlay and a solid fabric for the bra and binding. She completed her Agility tank by opting for the drawstring closure instead of hemming or adding a waistband. Her mannequin looks great modeling this Agility and I'm sure Mist wears it just as well.
And here is Bev rocking her swim Agility. She cut her overlay a bit different so there are no gathers and it puts the swim panel she used on full display. Although she used a solid fabric for the bra, she went with a print for the binding/straps.
Great job everyone! You all did an amazing job.
If you didn't get a chance to participate this time, keep an eye out in the 5oo4 group as we will be doing this again real soon. Group members will have the opportunity to vote on the pattern that will be featured during the sew a long.
Reader Interactions